Fennobed from now on in crime series "Among friends you do not die"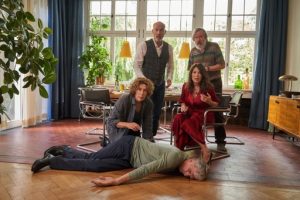 Who discovers our bed on the set? We participated in the set of the black comedy with a manufactory bed and other accessories. In the leading roles: Iris Berben, Heiner Lauterbach, Walter Sittler, Adele Neuhauser and Michael Wittenborn. In the supporting cast: Boxspringbed Aurea.
The macabre comic series can finally be seen on VOX since March 17, 2021.
Here are all the details: https://www.vox.de/cms/sendungen/unter-freunden-stirbt-man-nicht.html
Fennobed equips scenery
We sent our Stiftung-Warentest winning bed Aurea in front of the camera for the series. Included were base skirt Caleido and our headboard Basic Wings. Also a bed bench and the two different side tables Segment and Cube – all in natural oak. And last but not least, we were able to showcase our popular Noora and Saara bedding as well as blankets and pillows from our house brand Matri. Take a look at the black comedy – and maybe get inspired by Interieur.
Homage to friendship and life
"You Don't Die Among Friends" is based on the hit Israeli series "Stockholm" by Noa Yedlin. It broke all broadcasting records in Israel and recently won the Israeli Academy Award for Best Miniseries.
The story appeals in a special way to make valuable use of the time we have together in and for friendships. When Hermann, played by Walter Sittler, dies unexpectedly, his four best friends keep his death a secret for five days. The background: In this way Hermann, a renowned economist, can still win his well-deserved Nobel Prize. This mission not only puts their friendship to the test. But all the friends are also confronted with their own life balance. Each episode is dedicated to a different character of the clique and brings us closer to their personal story. This somehow also fits in with our philosophy. A bed from Fennobed is a precious place to live. Because life is too short to sleep away more than a quarter of the time in a bad bed.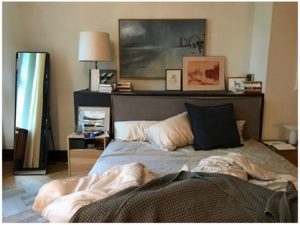 From the showroom to the show stage: the Boxspringbed Aurea and plenty of cozy accessories from Fennobed.