Our MATRI box spring beds
The core of every box spring bed from FENNOBED is formed by the snow-white MATRI beds. They are stable and ecologically sustainable manufactured – from certified, european MaterialsThe different models offer a weightless lying feeling and restful sleep thanks to different springsThey are suitable they are suitable for all statures, sleeping habits and lifestyles. The pure white of the mattress also stays with you for a long time, because our Comfort toppers are breathable and the Covers washable. Discover our our high-quality box spring beds here: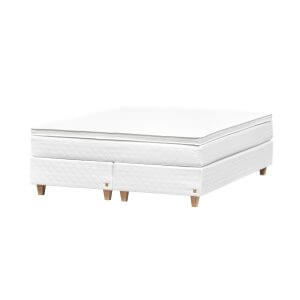 The precisely balanced interplay of responsive top and bottom springs is decisive for the lying comfort of our Continental box spring bed Tyyni.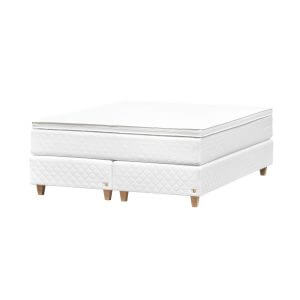 The Continental box spring bed Aurea stands for maximum comfort in our collection. Luxurious and adaptable to individual wishes, Aurea ensures a dreamy night's rest.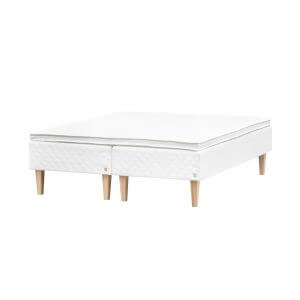 Precise top springing and a classic Bonell bottom springing – our Scandinavian box spring bed Cassia offers you everything you need for that very special sleeping comfort.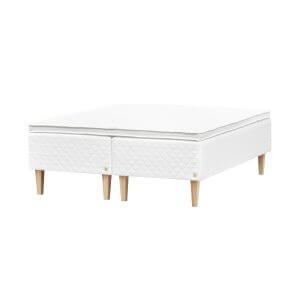 Thanks to its triple springing, the Scandinavian box spring bed Kaino is extremely adaptable and adjusts to the body individually at all times.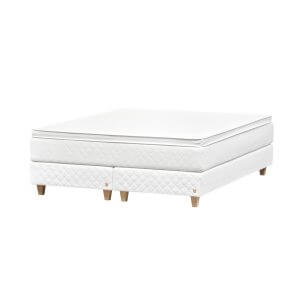 The Hilja Continental box spring bed is made of natural raw materials and allows for optimal adaptation to your body with two spring levels.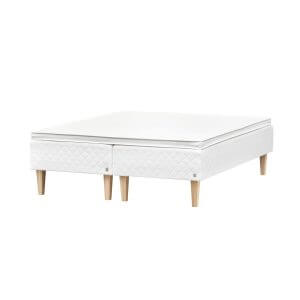 The Scandinavian box spring bed Hilja Classic is made of high-quality natural materials and creates a natural and breathable sleeping atmosphere thanks to its double springing.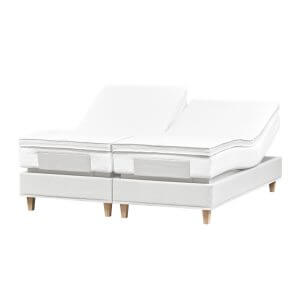 With innovative motor technology and dual suspension, the Suvia electrically adjustable box spring bed offers optimum comfort at the touch of a button.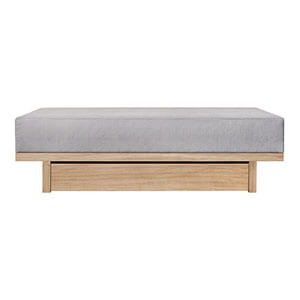 A daybed that offers full sleeping comfort. Whether in the children's room, study or guest room – the daybed always ensures natural elegance and Scandinavian aesthetics.
Your box spring bed from FENNOBED
Whether for sleeping, romping, cuddling or relaxing – we are convinced that the bed is the most important place in every home. That is exactly why we produce beds that fully correspond to our values: they combine naturalness and aesthetics. They invite rest and creativity. They are made with care and precision in our own factory. These are the demands we place on high-quality box spring beds. At FENNOBED you therefore get more than just a bed – you get a healthy, safe and reliable place that is made for all the beautiful things in life. On this page you will find all the information you need about our box spring beds, their features, advantages and design options. Inform yourself extensively, let us advise you and try it out before you buy your individual box spring bed – FENNOBED wishes you a lot of pleasure!
Content
Clever sleeping system: What makes a box spring bed?
Why FENNOBED – high-quality box spring beds from the manufacturer
The MATRI concept: Design your box spring bed individually
Try it out now and buy a box spring bed
Clever sleeping system: What makes a box spring bed?
Boxspring beds are characterised by their spring box, or "boxspring". This sprung base replaces a slatted frame and is the basis of the sophisticated sleeping system. Further components of a boxspring bed are a spring mattress, a headboard, bed legs and, depending on the model, a separate comfort topper. Due to the multi-layered construction and the optimally coordinated interaction of the individual components, box spring beds offer incomparable sleeping comfort. This type of bed was developed in the USA, which is why they are also known as "American beds" or "Continental beds". The term "hotel bed" is also just another name for the box spring bed and has become established due to the increasing use of these beds in luxurious hotels. The "Scandinavian box spring bed" is characterised by a separate topper, which is usually integrated into the mattress in the American version. This form of box spring bed has a long tradition especially in Finland – where the origin of FENNOBED also lies. We distinguish between box spring beds and Continental box spring beds: our more compact box spring beds, such as Cassia and Kaino, combine the different spring layers on one level, while the larger Continental box spring beds Aurea and Hilja have an additional mattress between the spring core box and the comfort overlay.
That's why FENNOBED – high-quality box spring beds from the manufacturer
Our drive has always been to produce healthy and well-designed beds – beds that make people happy and at the same time have as little impact as possible on the environment. The result is unique box spring beds that offer many advantages:
Comfortable & healthy: With a combination of area-elastic and point-elastic springing and high-quality upholstery, our beds offer excellent support properties and provide a dreamy lying feeling. They have excellent ventilation, which regulates moisture during the night and ensures a healthy sleeping climate. The height of our box spring beds also makes it easy to get in and out of bed.
Sustainable & stable: Our quality standards are high, which is why we only use controlled and certified raw materials from Europe in the manufacture of our beds. In this way, we want to protect the environment and also your health in the best possible way. Durability and stability are very important to us. For this reason, we give a ten-year durability guarantee on breaks in the suspension and frame. Washable materials and a minimalist, timeless design also characterise our box spring beds – and are an essential part of the sustainability of our products.
Flexible & individual: Since we manufacture our beds in our own factory, you have the option of expressing your own wishes and customising your box spring bed. Another advantage: the individual elements can be flexibly adjusted to match the degree of firmness in the interplay between the spring core box and mattress specifically to you.
Stylish & inviting: with a box spring bed from FENNOBED you will enhance your bedroom. Thanks to the skirting in Scandinavian design, the high mattresses and the aesthetic headboard to lean on, it reminds you of a comfortable lounging area that invites you not only to sleep but also to relax, read, play and cuddle.
The MATRI concept: Design your box spring bed individually
All FENNOBED boxspring beds offer you unique sleeping comfort and optimal support properties thanks to multiple springs. There are differences between our models in the materials used, mattresses and the suspension. However, the core of our bed systems is always the snow-white Matri beds. Simply choose the model that suits you best. Our diverse range of design elements allows you to furnish your bed entirely according to your personal taste. And if one day your box spring bed needs an exterior type change: This works in no time at all thanks to removable covers and a modular bed design. Discover our exhibits and let yourself be inspired!
Try it out now and buy a box spring bed
Do you have further questions about our products? Visit one of our showrooms and let us advise you in detail and personally. Here you can also try out our high-quality box spring beds and convince yourself of the many advantages. From classic to flexible to compact – at FENNOBED you have a wide choice and will find the bed that makes you happy. Test it now and buy your individual box spring bed directly from the manufacturer!