FENNOBED now also in the New Wave Hotel on Norderney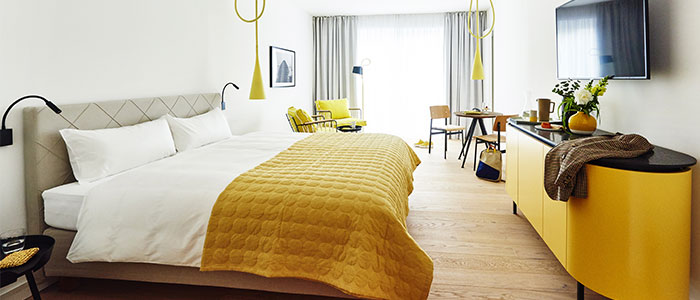 Norderney, one of the most popular North Sea islands in Germany, is a paradise for those seeking relaxation and nature lovers. But not only the island itself is a place to feel good and relax, also the New Wave Hotel, which opened in 2019, offers itself as a dreamy retreat from everyday stress. It was not without reason that GEO magazine named it one of the most beautiful new hotels in no time. In designing the New Wave, a great deal of emphasis was placed on sustainability, comfort and a unique design. FENNOBED has anchored these values in its philosophy and was therefore able to effectively bring its high standards of superior quality, comfort, design and environmental friendliness to the New Wave.
The design motto "Pop Art meets Scandinavian Casual" characterizes the 73 rooms that invite guests to feel at home. At the heart of each room, FENNOBED's Tyyni Continental box spring bed rests on a sturdy solid wood frame and spruce slatted frame. Both the box spring bed and the bed textiles made of natural materials, align in the fabric tone with the respective color concept of the room. However, the beds not only blend harmoniously into the hotel design, but also give guests an extraordinary sleeping experience. Thanks to the use of two pocket spring layers connected with a latex-jute upholstery, you as a visitor will benefit from an extremely cozy lying comfort.
Should you now feel like treating yourself to some time off in the cozy rooms of the New Wave Hotel, don't hesitate for long and pay a visit to the beautiful island of Norderney!